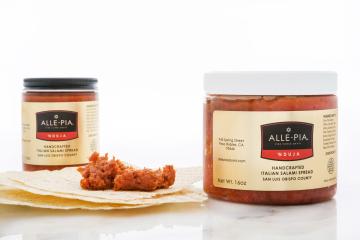 Each small batch is created with love by the talented Antonio Varia, Chef and Owner of Buona Tavola Restaurants in San Luis Obispo and Paso Robles, located in the beautiful Central Coast region of California.
For nearly two decades, Chef Varia has delighted residents and visitors with his inventive Northern Italian cuisine in his Buona Tavola (meaning "good table") restaurants. Alex Pellini, Chef Varia's nephew, came over from Italy in 2009 to help with the restaurants and has been instrumental in the creation and supervision of the salami production. Every batch of salami requires careful supervision and timing to ensure the perfect taste and consistency. The fresh, natural pork comes from a local supplier. No hormones or antibiotics are used. All products are locally sourced and USDA inspected and approved. Salami in a jar! Alle-Pia's
Nduja
salami mixed with sundried tomatoes, extra virgin olive oil, red chile peppers and garlic in an easy to use spread. Makes an excellent topping for crackers as an appetizer or light lunch. Add to sauces, soups, or spread as pizza sauce for a boost of authentic Italian flavor. Pronounce it by saying: 'n-DOO-ya. Keep refrigerated.