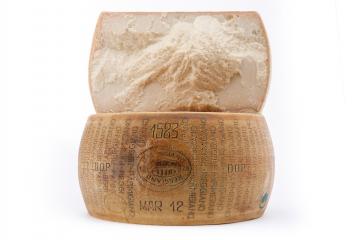 Parmigiano Reggiano 24- 26 Months
Parmigiano is the most emblematic of all Italian cheeses. Its stately appearance and intense flavor have earned it a place of honor at home and abroad. Used in recipes it adds a depth of flavor and salty edge to any dish. Equally impressive on the cheeseboard, Parmigiano provides the perfect balance to its soft, creamy counterparts.
All DOP Parmigiano Reggiano must be aged a minimum of 12 months. The Parmigiano Reggiano we sell at Fresca Italia is a minimum of 24 months. These wheels, designated as stravecchio, have been aged long enough to achieve the strong nutty, caramel flavors and crunchy protein crystals that make us love this cheese.