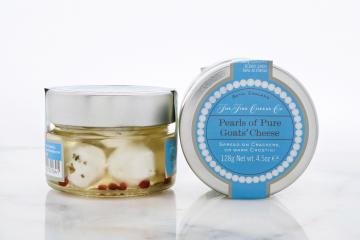 Pearls of Pure Goat Cheese
There is no question as to why The Fine Cheese Co.'s Pearls of Pure Goat Cheese was the winner of the 2013 SOFI awards for "Best New Product". Each jar contains 11 perfectly circular pearls of fresh chevre that have been marinated in a delicate blend of sunflower oil, fine herbs and pink peppercorns.
The lightly tangy flavors of the goat cheese is balanced with hints of earthy herbs that finishes with a peppery note.