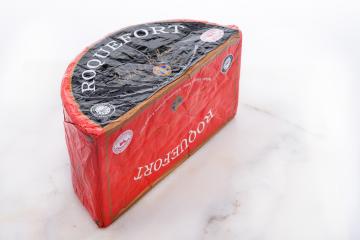 Local legend suggests that Roquefort was first discovered when a youthful boy, enjoying a lunch of bread and sheep's milk, was struck by a passing girl. Overtaken by her beauty, the boy abandoned his lunch in a nearby cave to pursue the girl. Returning a few months later, he found the bread had molded and turned the milk into what we now know as Roquefort.
Though this anecdote simplifies the process of cheesemaking, it does hold true to the natural occurrence of Penicillium Roqueforti, the mold that is classically used to make this cheese, in the caves of the Combalou Caves.
On a more historical account, Roquefort was the first French product to receive the designation of Appellation d'Origine Controlee (AOC) in 1925, protecting the recipe and production from any impostors. And the recipe still holds true today. All Roquefort is made from the milk of the Lacaune Sheep and aged for 3 months. After inoculation, the cheese develops a pocked interior, allowing for the molds to develop into a greenish hue. It is these molds, in combination with the rich sheep's milk, that give the cheese its distinctive flavor. Punchy, earthy with a hint of sweetness, Roquefort is easily one of France's most popular cheeses. Fresca Italia is proud to offer Roquefort from the Rodolphe le Meunier Collection. As with all his cheeses, le Meunier takes deliberate care in choosing his cheeses and his Roquefort is no exception.