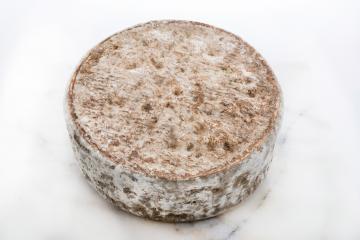 Most of this cheese is from one producer outside of Annecy, so it's very easy to compare the different aims and skills of each affineur for this cheese. This is the most refined version we've found so far.
When this cheese is young, the center has the distinctive chalkiness and melting texture under the rind. It has a gentle herbal taste on top of bright acidity. Upon arrival, the final texture becomes thoroughly soft and silky; supple, almost plastic texture feels substantial in mouth and melts slowly as good white chocolate does. The crusty rustic rind holds this beautiful texture and delicate flavor so unassumingly that I always hold my breath when I cut this cheese.
Tomme Crayeuse shares the cheese making method with Tomme de Savoie and Tome des Bauges from Haute Savoie but gives me the feeling of 'modern cheese'; this cheese is precisely designed to express the traditional origin of the cheese as reinterpreted through a modern lens.