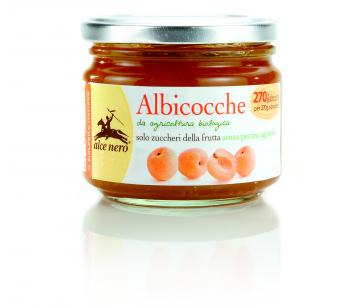 Organic Apricot Jam - Sugar Free
All too often, fruit preserves are full of sugar or artificial sweeteners. This is not the case with Alce Nero's composte. The only thing that goes into these preserves is 100% organic fruit like peaches and apricots grown in the fields of Emilia Romagna. No added sugar, no added pectin. The only ingredients you'll find are ripe, fresh fruits and a tiny bit of grape and lemon juices. As it says on the label, every 270g jar of preserves contains 270g of fruit.
The process begins in the fields before the fruit is even harvested. Agronomists work with the farmers throughout the season to produce the best fruit possible. Only when the fruit has reached the peak of ripeness is it picked. Alce Nero's processing uses lower temperatures over a short period of time as not to alter the organoleptic character of the fruit. This results in pure, clean preserves packed with true fruit flavor and aroma.