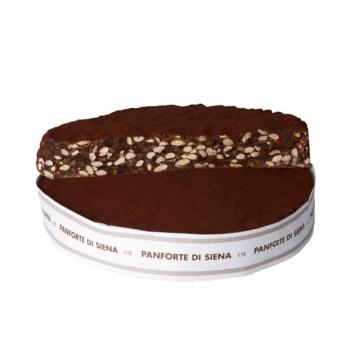 Panforte is a traditional cake from the Tuscan city of Siena. Its history dates back to medieval times when new spices were introduced by traders arriving from the east. Dense, flavorful, and sweet, panforte makes a satisfying treat. Its long shelf life made it a favored snack of crusaders. While traditionally eaten as a dessert, panforte makes a wonderful pairing with a wide variety of cheeses
Panforte Nero is a variation of the classic recipe. Like the original, the nero is made with cadied & dried fruit, nuts, and spices but in this version, the cakes are dusted with cocoa powder which provides a deep, satisfying contrast to the honey-sweetened pastry.
All of our panforte is made by Pastiecceria Marabissi, a family run business now in its third generation. Located in the town of Chianciano Terme, Marabissi has been handcrafting panforte and other sweets for over 60 years.